Samsung What's Next Evento Online
Luglio 8 @ 3:00 pm

-

4:00 pm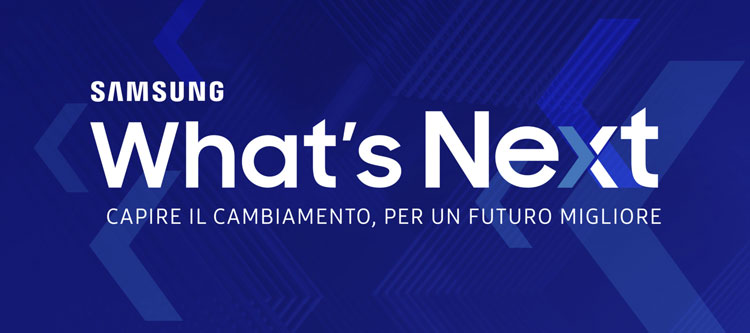 Samsung promuove l'Evento What's Next, il talk online pensato per guardare avanti e capire al meglio i trend che cambieranno il mondo del lavoro nei prossimi anni.
Grazie a ospiti speciali, infatti, verranno affrontati diversi temi e argomenti, discutendo sulla loro evoluzione futura.
Samsung, grazie alla sua esperienza nel settore tecnologico, si presta come portavoce delle innovazioni di oggi e di quelle che verranno.
Ha ancora senso distinguere tra mondo reale e mondo digitale? Che rapporto c'è tra evoluzione digitale e crescita culturale? Quali trend ci riserva il futuro?
Partecipa al secondo evento di What's Next, il talk pensato da Samsung per rispondere a queste e tante altre domande sul futuro dell'evoluzione digitale. Analizzeremo come l'interconnessione tra tecnologia, cultura e società possa portare alla creazione di un mondo migliore per persone e aziende. Perché serve il contributo di tutti per realizzare un cambiamento concreto e positivo, a partire dalle nostre scelte.
Gli ospiti di questo appuntamento sono: Francesco Cordani (Head of MarCom Samsung Electronics Italia), Francesco Morace (Sociologo e Presidente di Future Concept Lab), Nicoletta Besio (Sales Director Twitch Italy), Gianluca Gazzoli (Conduttore Radio TV and Digital Creator) e Anastasia Buda (Corporate Citizenship Manager Samsung Electronics Italia).